Cedar class invited parents in to take part in a healthy eating workshop. We started off by sorting foods into 3 groups: food we should eat lots of, food we should eat sometimes and food we should only have as a treat. Using our knowledge of different food groups we created a delicious menu for a knight. As knights need to be fit and healthy we needed to think of the best foods to give him lots of energy. Using our writing skills we added adjectives and descriptions to our dishes to make them sound more appealing. To finish off the workshop we planted some cress seeds to grow at home and to eat in a salad or a sandwich. Thank you to all the adults who came to join in the fun!
A special visitor!
As we are coming to the end of our topic exploring the story of Rapunzel, we decided to write letters inviting her to a tea party. We promised her fairy cakes and fairy lemonade! To our surprise she replied to us and accepted our offer. She flew in on her private purple and pink plane to come and see us on Monday afternoon. We had a lovely afternoon asking her questions and finding out what she has been up to after the prince saved her form her tower.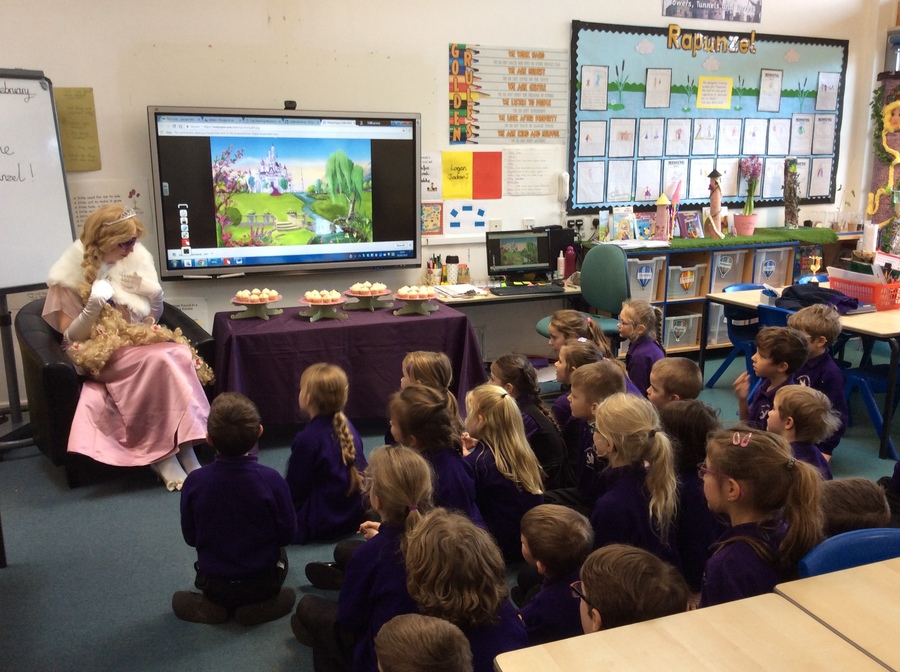 Cedar class had a homework challenge to create a tower for Rapunzel using any recycled materials they had at home. They have worked so hard on them so please come by to see them in the window. They are fantastic and all so different!

Cedar class have had a busy start to this term exploring the story of Rapunzel. After we read the story, we role played the characters thinking about how they would answer questions asked to them. Then we got into groups to create a TV news report which interviewed the Wicked Witch, Rapunzel and the Prince. We filmed these using the I pad and even had a go at filming each other interviewing the characters. Next we are going to use this knowledge to write newspaper reports.
Parent sharing learning morning!
This terms learning kicked off with an exciting visit from some of our parents. The children showed off their navigation skills by exploring treasure maps. Inspired by these maps we decided to hide our own treasure chests (created as homework) and created instructions and maps for our friends and adults to find them.
This week Cedar Class went back in time to sample a drink that sailors would have drunk out at sea many years ago. We followed the instructions carefully to create the drink, then all tasted it to give our opinion. These seemed to be very mixed! "I'm not sure about this!" "This tastes quite nice!"
Why don't you follow the instructions and find out for yourself?
You need:
1 lemon
1 tablespoon of brown sugar
1 pinch of powdered ginger
1 jug of hot water
Directions:
1.Cut the lemon in half and squeeze out the juice
2.Put juice in jug and add sugar and ginger
3.Add hot water and stir well
Land Ahoy!
What a fantastic start we have had to the year in Cedar Class!
The children have immersed themselves into our Land Ahoy! Topic. From treasure hunts, pirate puppet creations, pirate adventure stories, pirate ship building and sailor biscuits. It sure has been a busy term! Our exciting topic has continued into our outdoor learning afternoons, where we have been tools to create our very own pirate medallions
This week the children have met Percy the Parrot who has decided that he would like to spend time at home with them. He will be visiting a home each week with his very special diary that the children can fill with their adventures with Percy.
We look forward to what hearing all about your adventures with Percy.